Greater Tuna Closes the Season with Uproarious Laughter
Pittsburg Community Theatre closed its 2014-2015 season with the humorus two-man show, Greater Tuna. It was a phenomenal success and a great way to close the 2014 - 2015 season!


Director Betty Brown honored Roberta Tibbetts (Costumer) with the Gypsy Coat for her contributions to the production.


See the fabulous review from the Contra Costa Times.
Dateline: Sunday - May 24, 2015.
Barefoot in the Park Let Us Laugh About Love
Pittsburg Community Theatre presented Neil Simon's Barefoot in the Park, a wonderfully put together comedy about newlyweds. With a talented cast and awesome set this classic fit right into the season lineup.


Director Betty Gregg honored Jessica Knecht (Assistant Director & Stage Manager) with the Gypsy Coat for her contributions to the production.


See the wonderful review from the Mercury News.
Dateline: Sunday - April 26, 2015.
Into the Woods Showed Us That The Path Isn't Always Straight
Pittsburg Community Theatre produced yet another magical musical with Into the Woods. Director Dianna Schepers had her hands full with this contemporary classic from Stephen Sondheim. After a near eight months since the journey began, the show concluded it's two weekend run with the honor of the Gypsy Coat being awarded to Tina Smith, who was "a bug in her ear throughout the process" says Dianna, as well as performing as The Witch. Congratulations Tina!

Please click here for the fantastic review in the Contra Costa Times
Dateline: Sunday - March 8, 2015.
PCT wins two Shellies at the 2015 ceremony
Pittsburg Community Theatre received two Shellies on January 17 at the 2015 ceremony at the Lesher Regional Arts Center in Walnut Creek.

Cherie Persing (Pictured above with PCT Executive Manager Betty Brown), a long-time PCT participant both on and off stage, received a Shellie for her "Special Contribution to the Performing Arts."

Susan Dodge (Pictured above with Dianna Schepers, Director of South Pacific), won a Shellie for "Outstanding Costumes in a Musical" for the PCT production of 'South Pacific.'


Persing, a Pittsburg resident, was introduced to PCT nearly 20 years ago when her daughter, Shelley, won a role in the musical 'Oliver.' Later she joined her daughter on stage in 'Fiddler on the Roof' and also helped sew costumes for the production.


"Cherie has been invaluable as our prop manager," said PEAHOF inductee Betty Brown, PCT's Executive Manager. "She ferrets out unusual props that we need. She's organized and dependable and very pleasant to work with. She's also an accomplished actress with comedic and character roles."


Persing, who also serves on PCT's board as secretary, had previous experience obtaining props while working for Producers Capital Corporation when it was originally located in Orinda. She was the company's production coordinator for four years while it produced two motion pictures, numerous commercials and several TV pilots.
Part of her job was obtaining special props as well as scouting locations, hiring tech staff and finding housing for actors as well as previewing rough takes for studios and investors.


Persing wore a PCT Gypsy Coat (specially awarded to a cast or crew member after each PCT production) when accepting her award.


Persing has performed with PCT at previous Shellies, but this was her first time in the spotlight by herself at center stage.


"I didn't win it for being a performer, but I think this is better than that," Persing said. "They don't have Shellies for props or for parents carpooling kids to rehearsals.


"When thinking about what it means, it means a great deal of things not for doing one thing. You don't do this for the recognition, but it sure feels good. I'm so, so excited. I'm still glowing. It makes me feel good to be part of PCT's history."


Dianna Schepers, who directed 'South Pacific,' said Dodge was a worthy recipient.


"There were over 200 costumes for the show," she said. "She put in over 300 hours scouring various Army-Navy surplus stores for uniforms, and gathering netting, camouflage and parachutes. She not only made most all the specialty costumes, but coordinated others to help sew costumes."


Dodge had a role in the musical, and Schepers revealed, "She got stuck with the itchiest costume."


Dodge, who lives in Benicia, has performed with a number of Bay Area theatre groups, including Diablo Light Opera, the Masquers in Richmond and Benicia Old Town Theatre. She had appeared in one previous PCT production, 'I Hate Hamlet' in 2009.


Dodge, who used to own a costume shop in El Sobrante, created a squid costume for PCT's 2012 youth production of 'The Little Mermaid.' "I have always been doing a lot on my own to help costumers and had to step in several times to help design costumes," said Dodge, who noted cast members had as many as seven different costume changes during the play.


"We went all over to find costumes, and the ones we couldn't get we had to make like net dresses and a rope dress (the itchy costume Dodge had to wear) and turkey costumes made out of magazines and newspapers. I'd really like to thank Betty Gregg, Jolanda Little and Lois Butler for helping make costumes. They were all nuns in the play and were a Godsend to me."


Dodge had been nominated one previous time for a regional theatrical award in Sonoma County and was amazed and happy to win with her first Shellie nomination.


"It's very gratifying the show was recognized," said Schepers. "We knew we did a good show. We all felt like we won when Susan's name was announced."
Dateline: Sunday - January 16, 2015.
Mulan Jr. Wowed Audiences and Taught us Honor and Loyalty
Pittsburg Community Theatre continued its tradition of bringing a quality youth performance to the stage with "Disney's Mulan Jr." With a cast of 38 talented young performers ranging from the ages of 6 to 18, this year's production was a huge undertaking for director Steven W Mergogey-Conti, but their hard work paid off and the production was highly successful!


Steven presented the Gypsy Coat to Carlos Amaral and Avery Brooks for their hard work and dedication to the performance.


Alongside "Disney's Mulan Jr." was a student written one-act play entitled "OPERATION: Coming Home", it told the story of four kids dealing with parents deployed to Afghanistan and their impending return home. Written by Ricky Tiongson, Directed by Bethany Gella and Mentored by Sam Logan, this one-act will be one to remember for years to come.
Dateline: Sunday - December 14, 2014.
The Hound of the Baskervilles Starts the Season off with Mystery
Pittsburg Community Theatre opened its 2014-2015 season with a classic Sherlock Holmes mystery by F. Andrew Leslie based on the original by Sir Arthur Conan Doyle. It was a great success and a great way to start the second season in our home at the California Theatre.


Director Lisa Marie Taylor honored Lora Oliver ("Beryl Stapleton" & Costumer) with the Gypsy Coat for her contributions to the production.


See the outstanding review from the Contra Costa Times.
Dateline: Sunday - October 5, 2014.
PCT Receives Support from the Dean & Margaret Lesher Foundation
Pittsburg Community Theatre wishes to extend a heartfelt THANK YOU to the
Dean & Margaret Lesher Foundation for their generous support.
With their assistance, PCT will be able to enhance the overall production value of our shows this coming season and purchase the much needed body microphones.
Thank You Lesher Foundation!
Dateline: Saturday - July 8, 2014.
Elsa Visits Pittsburg at the 4th of July Fesitval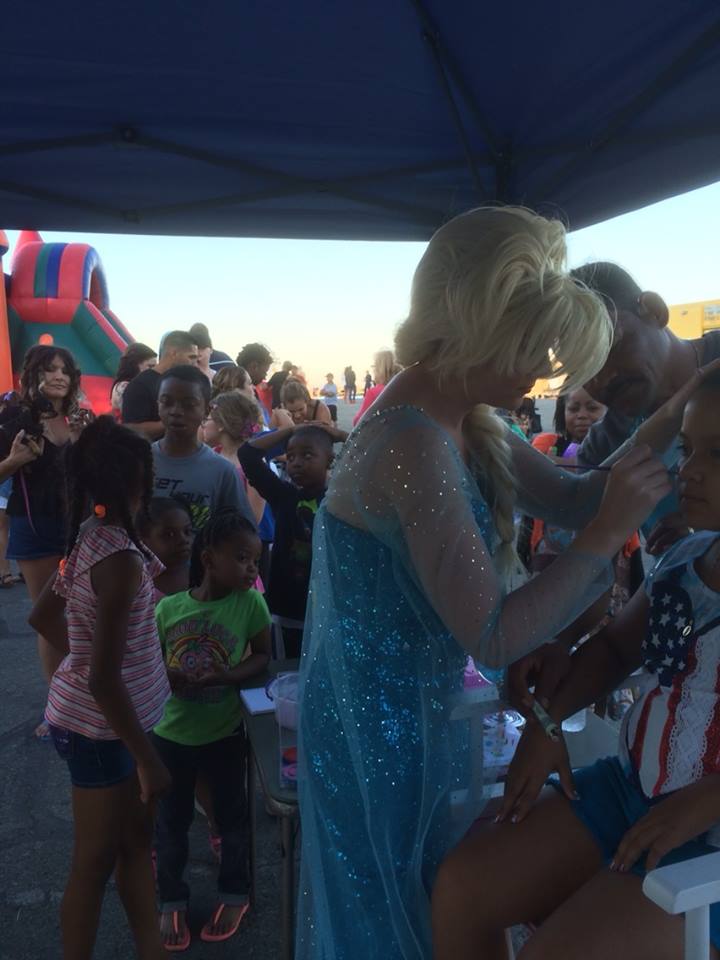 Elsa came to Pittsburg on the 4th of July!
Elsa from Disney's "Frozen" joing PCT at the July4th Festival. She delighted the children with face painting and having her picture taken with whomever asked.
This was PCT's first booth at the festival and did we have a marvelous time. We passed on information about our upcoming season and also let all the children know about of the upcoming auditions for Mulan Jr. to be held on September 8 and 9.
PCT is also hosting a free audition workshop on August 23. This is free to any student who wants to learn basic audition skills and gain assistance for the upcoming Mulan Jr. auditions.
For more informaiton, see Events.
Pictured - Elsa warming the hearts of Pittsburg PD's Finest!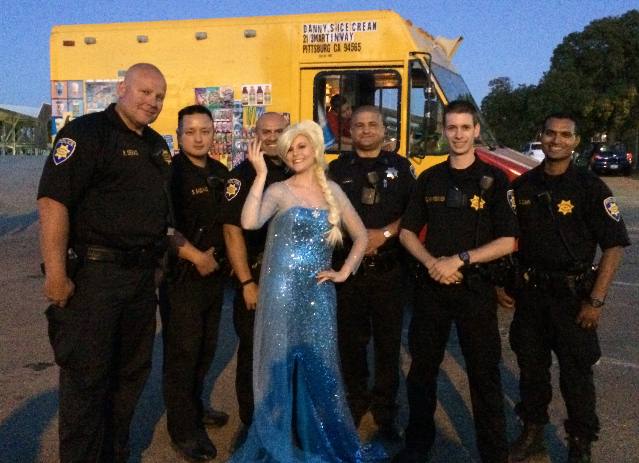 Elsa warming the hearts of Pittsburg PD's Finest!
Elsa is protrayed by Courtney Shaffer, a PCT actor and who is also the assistant director for Mulan Jr. this fall.
She owns "Little Princess Wishes" and performs for birthday parties and other events as your favorite Disney Princess. Check out www.LittlePrincessWishes.com for more information.
Dateline: Saturday - July 5, 2014.
The Mousetrap Closes the Season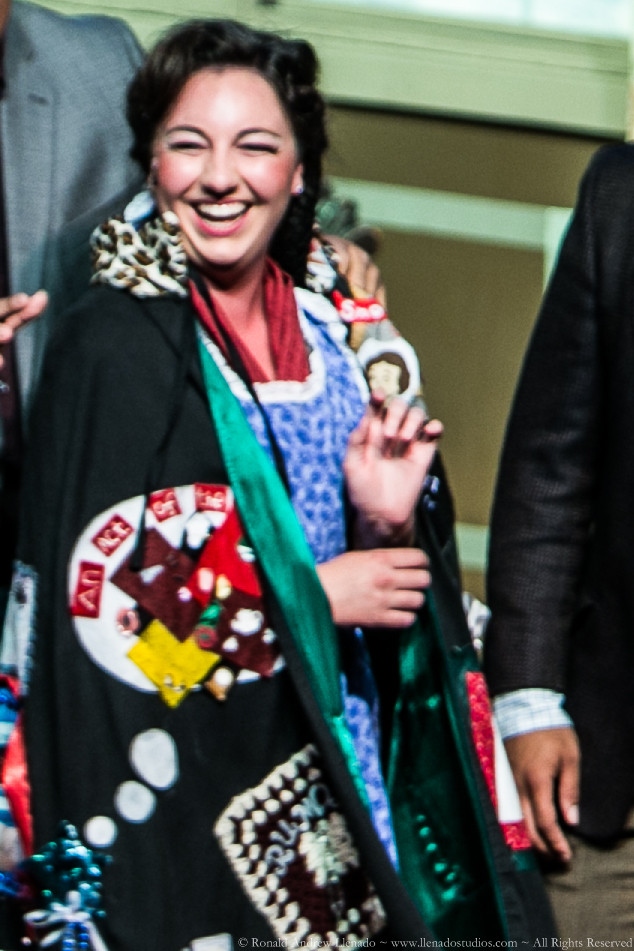 The Mousetrap was a delight from start to finish.
Courtney Lynn Weixel was honored with the Gypsy Coat for being, what Director Roberta Tibbetts said, the "heart" of the show and tied it all together!
This show was a true ensemble show and featured Courtney Lynn Weixel and Sam Logan as the innkeepers to a collection of characters who came to stay at their manor. A longtime PCT alum Brian Villaneuva returned to the stage and PCT to be part of this show. The last we saw him, he directed The Mousetrap. Other guests at the manor included Natalie Hardt, Jeff Strawther, Joe Saam and of course, Betty Brown.
Betty was greated with a warm ovation each time she first took the stage. It was amazing to see her perform, and for many of us, it was our first time to see her true talent shine on stage.
Congratulations to the entire cast, production team and director for this fabulous production.
Dateline: Monday, May 12, 2014.
PCT Honored with TWO Shellie Awards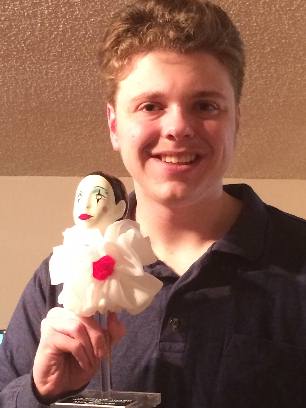 PCT WINS! The 35th Annual Shellie Awards were held at the Lesher Center for the Arts in Walnut Creek on Satuday January 11, 2014. These awards recognize outstanding achievement in the performing arts in the Central Contra Co¬sta/Diablo Valley region and are the East Bay's equivalent of a Tony Award. Pittsburg Community Theatre has long been part of this event and has garnered many awards through the years including last year's Best Support Actor in a Play in which Antioch's own Kevin Burns was honored. This year PCT took home two Shellie Awards.
The first award was a technical award presented to Ronn Ton for his lighting design work for M*A*S*H. This was a great achievement for designing lighting cues for more than 30 scenes both on stage and in front of the curtain. Hats are off to Ronn for his creative work .
The second Shellie award was the shocker of the night as Alex Schepers took home the trophy for Best Supporting Actor in a Play for his portrayal of Radar O'Reilly in M*A*S*H. Alex was 15 years old when he performed in the show and he is now a Junior at Pittsburg High School. Alex portrayed Radar with all the "sensitivity and naivety" one would expect to see in this character according to director Dianna Schepers upon accepting the award for Alex. She further said that as patrons left the show they would say "it was as if Radar stepped out of the screen and onto the stage," and is "doubly proud" because Alex is her son. She was thrilled with his performance and grateful to the Shellie Committee for recognizing his work.
Congratulations to both Ronn and Alex!
Dateline: Sunday, January 12, 2014..
"A Case of Libel" at the Shellie Awards
At the 35th Annual Shellie Awards, Ken Solazzo (Shellie Nominee for Best Actor) and Michael Walraven performed a scene from "A Case of Libel." It was riveting to say the least. They had the croud by the palm of their hand! Bravo! To Ken and Michael and to their director Kris Neely for this award nominated show!

Check out their scene.... "A Case of Libel"
Dateline: Saturday, January 11, 2014
Aladdin Showed us a "Whole New World"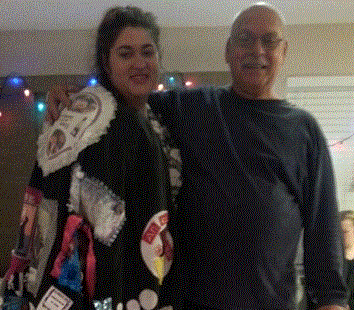 Pittsburg Community Theatre continued its long tradition of bringing a children's show to the stage with Disney's Aladdin Jr. This year we enjoyed a very talented cast and topped it off with awarding the Gypsy Coat to Anastazia "Zia" Tedford. Zia was one of the stage managers for the show as well as performing in both Aladdin and the original one-act "The Fountain.
Director David Ward was thrilled with this years show and very proud of all the students who participated.
David and Zia are seen in this picture at the cast party.
Dateline: Sunday, December 15, 2013.
The Odd Couple Starts the Season off with a Bang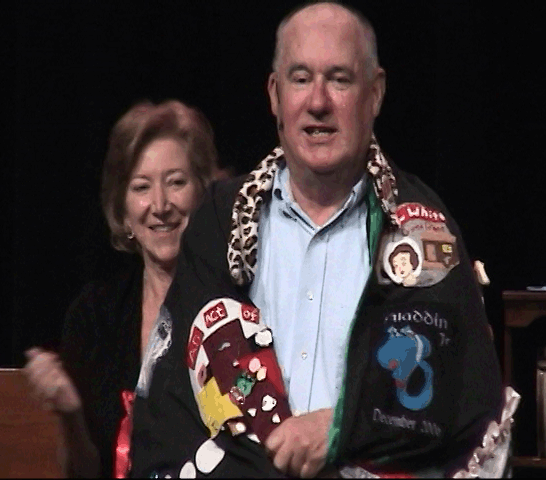 Pittsburg Community Theatre opened it season with the classic Neil Simon comedy "The Odd Couple." It was a huge success and shows that PCT is happy with its new home at the California Theatre.
Director Barbara Halperin-Jacobs honored Kevin Burns ("Oscar Madison" with the Gypsy Coat for his contributions to the production.
See the glowing review of the show from the Concord Patch.
Dateline: Thursday, October 31, 2013.
Our New Home - The California Theatre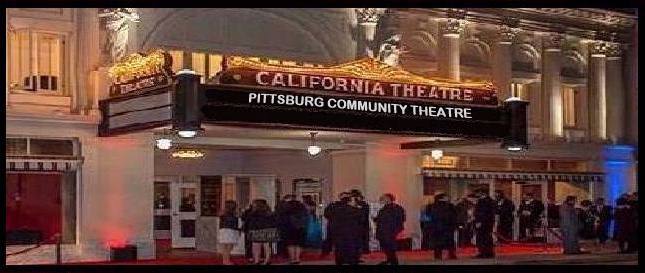 The Pittsburg Community Theatre board of directors has decided to make the California Theatre our new home!
We are thrilled to moved to this newly renovated historic theatre and look forward to an exciting season of quality live theatre.
Thanks to the City of Pittsburg for their support and to the management of VenueTech for their assistance.

Dateline: Wednesday August 21, 2013.
Betty Brown to be Inducted into the Hall of Fame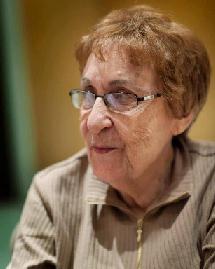 PCT is thrilled to announce that our founder, Betty Brown is one of eighteen to be inducted with the first class ever into the Pittsburg Entertainment & Arts Hall of Fame.
Nominees for enshrinement were chosen by a select group of local artists. The final voting was conducted by members of the PEAHOF. Criteria for selection included a connection to Pittsburg, regional and national recognition and contributions to local culture and youth.
An Induction Ceremony will be held at the Creative Arts Building on Oct. 6, 2013.
Congratulations, Betty!
Dateline: Wednesday, May 1, 2013. Updated August 21, 2013.
PCT Shellie Award Winner
Pittsburg Community Theatre is proud to announce that Kevin Burns won the Best Supporting Actor in a Supporting Role for his protrayal of Max Prince in last year's production of "Laughter on the 23rd Floor!"

Congratulations Kevin! For a complete list of past winners, see our Shellie Awards page.

Dateline: Monday, January 21, 2013.
An Outstanding Job!
A big Thank You to Mr. Romeo Simionas and his advanced students in Web Design classes at Pittsburg High School for designing the template for this website. We hope to work with the web design students again as they are wonderfully talented and this was a great opportunity for them to work with real world "client!" Thanks again!!!!



Dateline: Friday, June 8, 2012.
Rededication of the Creative Arts Building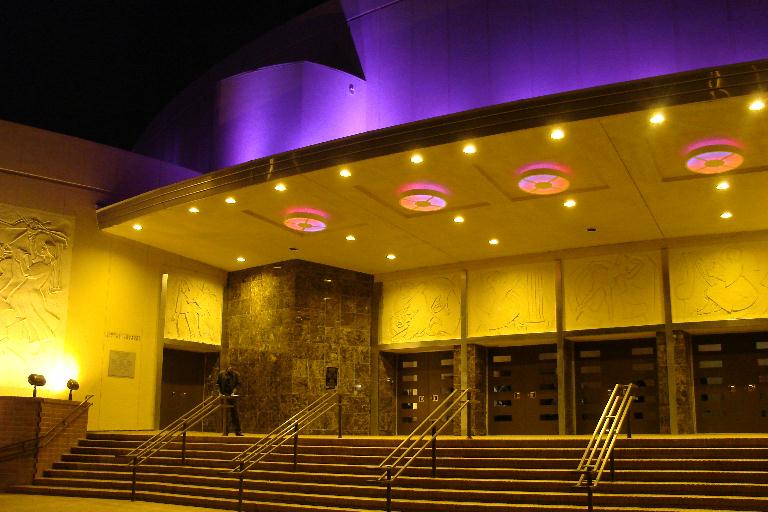 The $9 million renovation/modiernization of the Creative Arts Building on the Pittsburg High School campus is complete and culminated with a huge rededication celebration. PCT took part in the celebration by performing the title song from "The Kids Left. The Dog Died. Now What?"




PCT thanks the Pittsburg School Board for the past 39 years and wishes them great fortune in the future.
Dateline: Thursday February 23, 2012.
Founder Betty Brown Honored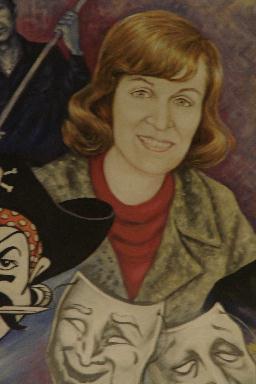 The Pittsburg Entertainment and Arts Hall of Fame, located in the lobby of the historic Creative Arts Building on the Pittsburg High School campus recognizes local musicians, performers, artists and writers and commemorates their achievements and impact upon the cultural life of Pittsburg. It is hoped that by honoring these individules, the youth of Pittsburg can be educated and inspired to use and expand their creative abilitiles to enrich the community.
One of those honored is our own Betty Brown; founder of PCT. Betty started an Adult Education in September, 1973, until April, 1978. She ran the classes and brought various types of productions to the delight of audience goers. Then on April 9, 1979, PCT was incorporated as a non-profit corporation and has produced four productions each year ever since. Her image is forever captured by internationally known artist and Pittsburg native Dr. Ronald McDowell. Dr. McDowell painted Pittsburg's cultural history in a 90-foot frieze which is located in the main lobby of the Creative Arts Building.
Dateline: Thursday February 23, 2012.