Spamalot tells the legendary tale of King Arthur's quest to find the Holy Grail. Inspired by the classic comedy film, Monty Python and the Holy Grail, the musical also diverts a bit from more traditional versions of the legend. Instead, Spamalot features shenanigans including a line of beautiful dancing girls, flatulent Frenchmen, and killer rabbits. Outside, there is plague with a 50% chance of pestilence and famine. Throughout the show, Arthur, traveling with his servant Patsy, recruits several knights to accompany him on his quest, including Sir Bedevere, Sir Robin, Sir Lancelot, and Sir Galahad. Besides the rabbits and farting Frenchman, they meet such characters as the Lady of the Lake, Prince Herbert, Tim the Enchanter, Not Dead Fred, the Black Knight, and the Knights who say Ni.
Audition Information
Saturday - May 19, 2018 - 12 pm - 3 pm
Monday - May 21, 2018 - 7:30 pm - 9:30 pm
Wednesday - May 23, 2018 - 7:30 pm - 9:30 pm
Auditions are by Appointment with 5 people in each 30 minute block
Dance Call back on Thursday - May 24, 2018 by Invitation
Principal's Call back on Wednesday - May 30, 2018 by Invitation
Audition Requirements: Sing an uptempo musical song and be prepared to perform a few basic dance steps. Tap dancing a plus.

Audition Location: Community Presbyterian Church - Chapel
200 E Leland Rd
Pittsburg
Monty Python's SPAMALOT Book & Lyrics by ERIC IDLE Music by JOHN DU PREZ & ERIC IDLE
A new musical lovingly ripped off from the motion picture "Monty Python and the Holy Grail" From the original screenplay by Graham Chapman, John Cleese, Terry Gilliam, Eric Idle, Terry Jones, Michael Palin
Broadway Production produced by Boyett Ostar Productions,The Shubert Organization, Arielle Tepper Madover, Stephanie McClelland/Lawrence Horowitz, Elan V McAllister/Allan S. Gordon, Independent Presenters Network, Roy Furman, GRS Associates, Jam Theatricals, TGA Entertainment, and Clear Channel Entertainment
Directed by Dianna Schepers
Musical Direction by Luis Zuniga
Choreography by Anjee Norgaard-Gallia
Rehearsal Schedule (tentative schedule):
Expected to begin end of July, 2018
Monday thru Thursdays - 7:00 pm - 10 pm and Sunday late afternoons for major choreography.
Production Dates (tentative schedule):
Friday - September 28 & October 5, 2018 @ 8:00 PM
Saturday -September 29 & October 6, 2018 @ 8:00 PM
Saturday - October 6, 2018 @ 2:00 PM
Sunday - September 30 & October 7 @ 2:00 PM
PCT is currently in negotiations to add one additional weekend (October 13 & 14, 2018).
Performance Location: California Theatre - Downtown Pittsburg
Character List
Color blind casting and gender bending expected.
Some traditionally cast male characters may be changed to female at the director's discretion.
Note: Characters are listed as they were cast in the Broadway production. Some characters might be cast slightly differently depending on audition turnout.
Characters are annotated where alternative casting might be done.
KING ARTHUR: The King of England who sets out on a quest to form the Knights of the Roundtable and find the Holy Grail. Great Humor. Good singer.
SIR ROBIN: A Knight of the Roundtable. Ironically called 'Sir Robin the Brave,' though he couldn't be more cowardly. Joins the Knights for the singing and dancing. Also plays GUARD 1 and BROTHER MAYNARD, a long-winded monk.
SIR LANCELOT: A Knight of the Roundtable. He is fearless to a bloody fault but through a twist of fate, does discover his 'softer side.' This actor MUST be great with character voices and accents, as he also plays THE FRENCH TAUNTER, an arrogant, condescending, over-the-top Frenchman, the KNIGHT OF NI, an absurd, cartoonish leader of a peculiar group of Knights, and potentially TIM THE ENCHANTER, a ghostly being with a Scottish accent (this character might be an ENSEMBLE player).
PATSY (might be cast with a female): King Arthur's horse and servant. Underappreciated but always longing for King Arthur's approval. Good, funny, physical mover with some tap dancing. Also plays MAYOR, a jolly red-faced man who advertises the merits of his home town and the drunken, useless GUARD 2 (this Guard might be an ENSEMBLE player).
SIR GALAHAD: A Knight of the Roundtable. Begins as Dennis, a lower class 'mud gatherer' who becomes Knighted and transforms into the dashing Sir Galahad. Also plays PRINCE HERBERT'S FATHER, a wealthy, brutish Yorkshireman man at odds with his sensitive son, THE BLACK KNIGHT who is always ready to duel despite multiple injuries. Strong bari-tenor singing required.
SIR BEDEVERE: A Knight of the Roundtable. An inept scholar. Also plays DENNIS GALAHAD'S MOTHER, a shrill peasant woman, and CONCORDE, Sir Lancelot's horse. No solo singing.
THE LADY OF THE LAKE: This role is pre-cast.
THE FOLLOWING ROLES ARE PLAYED BY THE SAME ACTOR: Tenor singing required. Very good mover.
HISTORIAN: A tweedy academic (might be cast with a FEMALE ENSEMBLE);
NOT DEAD FRED: A sickly little fellow who, despite others' beliefs, claims he is "not yet dead" (might be cast with a FEMALE ENSEMBLE);
FRENCH GUARD: The condemnatory French sidekick to the French Taunter.
MINSTREL: In Sir Robin's band.
PRINCE HERBERT: The hopeful and frilly prince who loves to sing and pines for his love atop a tower.
SIR NOT APPEARING may double as THE DANCING MONK or MALE ENSEMBLE
A MALE DANCER appears as THE DANCING NUN
THE VOICE OF GOD might be pre-recorded
TWO FRENCH GUARDS are two of the MALE ENSEMBLE
ROBIN'S MINSTRELS are also ENSEMBLE: 2 MEN, 1 WOMAN.
SIR BORS is MALE ENSEMBLE.
ENSEMBLE: Six men and six women
Auditions are by appointment
Please book your appointment using the Book Now button.

Audition Application

Please download and print - bring the completed application with you to the audition.
General Information and Dates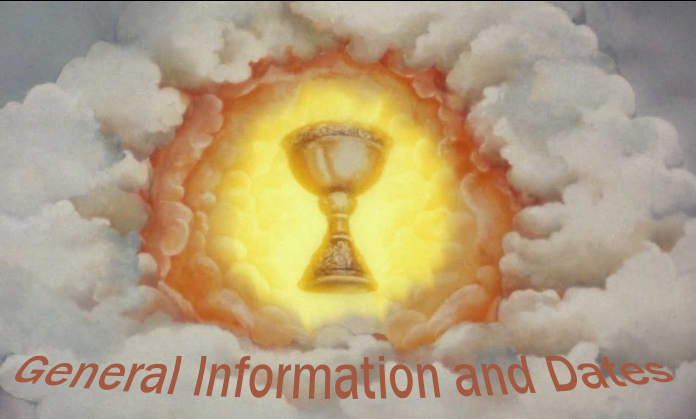 Click Grail image and review dates in this document and note conflicts on your application.