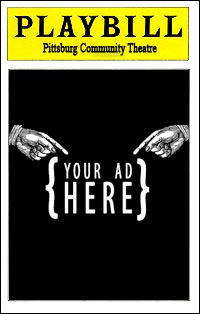 Pittsburg Community Theatre appreciates all of our Playbill Sponsors and
their support. We encourage your patronage of their businesses and tell them where you saw their Ad to encourage their continued support of PCT.
Sponsors also have the unique opportunity to have their ad placed on
the "big screen." In addition to printing your ad in the program, your ad will be
projected on the screen on stage prior to the beginning of the show. Additionally, your ad will continue to be hosted on our website.

2017-2018 Advertising Rates
Ad Size
Business card size

$100.00

Business card size w/ Design Fee

$120.00

1/4 page

$160.00

1/4 page w/ Design Fee

$185.00

1/2 page

$240.00

1/2 page w/ Design Fee

$270.00

Full page

$360.00

Full page w/ Design Fee
*PCT presents five events each season. If purchased mid-season, your Business Ad can be
carried over to the next season to accommodate the five event agreement.
You can also choose to prorate your cost based on the number of events remaining in the 2017-2018 season.
If you would like assistance creating the design for your advertisement, we can help you with that. Design fees vary depending upon size of the ad. Design fees ranges from $20 to $35. To request assistance designing your ad, just select the appropriate ad size with "Design" fee included in the total when placing your order below.